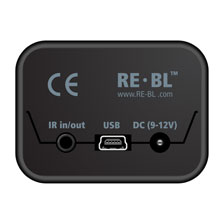 The RE·BL is an IR to Bluetooth® converter, designed to allow any universal IR remote to control a PS3 system.

Using a RE·BL will allow you to fully control Blu-ray/DVD and Vidzone playback, including powering on/off the PS3.

The RE·BL is easy to setup and only needs to be paired with a PS3 before it is ready for use. It does however allow for advanced customization of options by connecting the RE·BL to a PC/USB port (no drivers required) and using the accompanying PC-software.

Multiple power sources, including battery, USB and DC adapter are supported, and the RE·BL will automatically enter low power mode when not used to conserve energy and to maximize battery lifetime.
Download
Support
RE·BL X - Infrared to Bluetooth® wireless converter for the PS3
As Blu-ray becomes more and more popular, and as the PS3 is one of the best Blu-ray players on the market, the lack of IR support on the PS3 has become a frustrating problem for many PS3 owners.

Now finally the problem is solved by the RE·BL X: An easy to use IR to Bluetooth converter for the PS3. No configuration it needed, just add the RE·BL X device to your Harmony remote (or any other universal remote) and it is ready for use.
For those who need it, the RE·BL X offers advanced configuration options through the USB connection and the accompanying PC-software.

The RE·BL X can be supplied by batteries, USB or a DC-adaptor, and it has an advanced low-power mode for extended battery life. It is possible to combine USB and batteries, allowing for the PS3 to power the RE·BL X when turned on, and to be battery-powered when the PS3 is turned off.




Compatible with most remotes


RE·BL X is officially supported by several manufacturers of remote controls and A/V systems, and fully compatible with almost any IR remote on the market.
Logitech Harmony


Philips Pronto


One For All


Bang & Olufsen Beo4 + Beo5


Bose Lifestyle systems


Any presetable remote that can emulate Sony DVD IR codes


Most learning remotes
RE·BL X main features
Full Blu-ray/DVD and Vidzone playback control of PS3


Power on / off control of the PS3


High sensitivity internal IR receiver, plasma and LCD friendly


Support for external IR receiver and IR distribution systems


Advanced IR repeater mode for setting up local IR distribution


Supports multiple power sources: DC-adaptor, USB or battery


Low-power mode for extended battery life


Low-battery indicator


Power-state sensing of the PS3 via USB connector


Discrete activity LED for user feedback


Configurable IR device code to avoid conflicts between RE·BL X and existing Sony DVD players


Customizable macros (incl. predefined power-off macro)


Auto-pairing mode for Bluetooth® wireless connectivity


Fully firmware/BT-firmware upgradeable for future functionality


Driverless USB connection for advanced configuration through multilingual PC-software


Innovative casing design, allowing for easy change of batteries and flexible placement options





Power-on / off control of the PS3


The RE·BL X allows for complete control of the PS3, including power-on, power-off and full Blu-ray/DVD + Vidzone playback control. It uses the same Bluetooth radio module as the original Sony Blu-ray remote, allowing control of the PS3 exactly as the original remote, with full compatibility.




Advanced configuration options


The RE·BL X is ready to use out of the box, but it also offers several advanced configuration options.
By connecting the RE·BL X to a PC through a USB port (no USB drivers required), it is possible to configure the RE·BL X using the accompanying software. The software allows for configuring custom macros, modify LED activity, toggle between internal or external IR receiver and also specify custom IR Devicecode to avoid conflicts with existing Sony equipment.




Multiple power sources


Low power consumption is a key feature of the RE·BL X. It is designed with low power consumption in mind, making it possible to run on a single pair of "AA/LR6" batteries (Battery lifetime under normal usage is up to 1 year).
The low power usage is also a plus when using an external DC power-supply considering standby power and waste of energy.
A good combination for those who do not wish to add another DC adaptor to their system, is to use a combination of batteries and USB power from the PS3. The batteries will power the RE·BL X when the PS3 is turned off, and when the PS3 is turned on the RE·BL X draws power only from the PS3. This means only standby power will be drawn from the batteries, extending battery-life considerably.




Macros


Macros are a sequence of commands to be executed.
The RE·BL X allows for custom definable macros to be configured by using the accompanying PC-software. The macros allow for a single keypress on the remote control to execute a sequence of commands.
There is no power-off command for a PS3, so in order to power-off the PS3 a sequence of 7 commands needs to be executed. This can be done by using the predefined RE·BL X 'Poweroff' macro. Other macros are left up to the user to define.




External IR


The RE·BL X has a built-in high-sensitivity Plasma/LCD friendly IR receiver, but it also allows for the use of an external IR receiver for those who wish to use the RE·BL X in a hidden/permanent installation.
RE·BL X accepts modulated signals from an IR distribution network, and demodulated signals from an external IR Eye.
Read more about the IR port here: How to use the IR-port on RE·BL X.




IR repeater / Local IR distribution


One of the most interesting features of the IR port, is the ability of RE·BL X working as an IR repeater. This is very useful for A/V devices placed in a closed rack. RE·BL X will take any signal received from the internal IR receiver, and transmit it to a single, dual or quad IR emitter cable connected to the IR port, while still providing the usual functionality of IR to Bluetooth conversion.
Read more here: How to use the IR repeater mode.




Device code


In order to avoid conflicts with existing Sony equipment / DVD players, it is possible to change the IR devicecode that the RE·BL X will respond to.
By default all RE·BL X will respond to the same IR codes as the PS2 or any other Sony DVD player. If using a system with an existing Sony DVD Player, it is possible to change the devicecode of the RE·BL X, in order to control the two devices separately.
Changing the device codes also allows for multiple RE·BL X to be used in the same room or IR distribution system.




Firmware upgradeable


The support for firmware upgrades ensures that any future changes to the PS3 will not cause problems. The firmware upgrade feature also allows for future improvements to be implemented, and made available through a software update.




Multilingual software


The software user-interface has been translated into the following languages:


| | | | | | |
| --- | --- | --- | --- | --- | --- |
| English | Danish | German | French | Icelandic | Italian |




Software updates

are free of charge, and can be downloaded from the download page.




Technical specifications
Dimensions
Unit: 85x45x34mm (3.3x1.8x1.3 inch)
Packaging: 112x69x37mm (4.4x2.7x1.5 inch)
Weight
Unit: 53g (1.87oz), Gross: 121g (4.28oz)
Temperature range
0° - 45° Celcius, 32° - 113° Fahrenheit
Relative humidity
15% - 95% Non condensing
Placement
Do not place in direct sunlight
DC Power supply
9-12Vdc, min. 100mA
Std. DC-adaptor, 2.1mm positive centre-pin
Typical powerconsumption at 9Vdc is < 0,25W
Batteries
2 x AA alkaline (LR6) standard batteries
Expected battery lifetime 6-12 months of normal use. (Expected battery lifetime is only indicative. Actual battery lifetime depends on battery type, model, usage scenarios etc.)
System requirements (for PC configuration)
Windows 2000, Windows XP, Windows Vista (32 and 64bit), Windows 7 (32 and 64bit), Windows 8 (32 and 64bit) and Windows 10 (32 and 64bit).
Min. 2MB free hard disk space
Min. 32MB free memory
Min. 1 free USB 1.1 or 2.0 port


The Bluetooth® word mark and logos are registered trademarks owned by Bluetooth SIG, Inc. and any use of such marks by WB Electronics is under license.